Silicon MMICs
Smart RF solutions for wireless products
Philips Semiconductors' BGA20XX family of MMIC amplifiers and mixers provides unrivalled RF gain for silicon devices. Operating up to and beyond 2.4 GHz, the MMICs feature several optimized passive components on-chip to automatically compensate for temperature and process variations. Consequently, they can reduce the size and design time for many wireless products.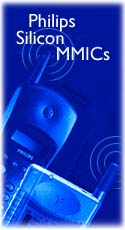 Design features
Reduced RF component count with greater functionality
Easy circuit design for rapid product development and fast times-to-market
Reduced board size (up to 75% of discrete transistor solution) to enable smaller and lighter mobile products
Lower bill of materials, and lower assembly and logistics costs
Performance features
Very high gain
Low noise figure
Low current consumption for extended talk-times and battery life
High reverse isolation (mixer)
High efficiency

Information resources


Selection guide / Datasheets


Double Polysilicon - background info


Silicon MMICs - a quick overview

MMICs models


Application notes

Order Samples
For Sample orders, please contact the Philips Sales Office.